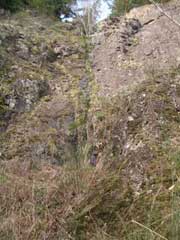 01/25/06 - Special Surprise Waterfall is Gone
Last week there was a Special Surprise Waterfall on the Spruce Railroad Trail along the north shore of Lake Crescent. Well, things have been drying out at the lake, and the little waterfall is gone. You can see where it ran on the left.
The lake had risen at least a foot above its usual level, and most likely higher, but on our last hike, the water was down a fair bit. We didn't have to leap onto the bridge at the Devil's Punchbowl, and there was a lot less mud. Still, having found a wonderful waterfall of our very own, we are now looking forward to the next wet stretch.
Keywords: winter, spruce railroad, lake crescent, surprise waterfall, waterfall