For years it has generally been accepted that it was impossible to operate an excellent restaurant, particularly an excellent restaurant that served dinner, in the city of Sequim. A variety of reasons were given, and for years, the lack of a great place to get an evening meal in Sequim remained. Then, the Alder Wood Bistro opened, and gave the lie to the conventional wisdom.
The Alder Wood Bistro is run by a young couple who love good food. They love the great local ingredients: the fish, the lamb, the local farm vegetables, and the local cheeses. They also know how to turn these great raw ingredients into wonderful food, and they know how to run a restaurant.
The restaurant itself is light, woody and contemporary. There is a peaceful dining room, an elegant bar, and a lovely outdoor dining area. The food is light, bright and contemporary, and brought back memories of California's culinary awakening in the 1980s, before it all became a cliche.
To start with, they have a wood fired oven from which they produce magnificent pizzas and focaccia. The pizzas are simple, with a modest set of ingredients, and their strength is in those ingredients and the hearty, crunchy crust. We tried the chanterelle pizza, with local chanterelles, now that they are coming into season, mozzarella cheese and an arugula pesto. The flavors were deep and central.
We had a hearty piece of planked white salmon, rich and fatty, and simply prepared with a nectarine and blueberry salsa. Beside it were a collection of Nash Huber's finest, cauliflower, broccoli, zucchini from his farm just a few miles north. There were also a few fingerling potatoes from Lazy J, silky and buttery and perfectly cooked. This was a true local dish, with local fish and local vegetables, classics of the North Olympic Peninsula.
But, Alder Wood Bistro is not limited by the Northwest. We also tried their moussaka, and we were truly impressed. Every Greek restaurant serves moussaka, even the ones that have no clue as how to prepare it, and despite being a classic, it is open to a great deal of interpretation. The version we had was magnificent. It was even better than the excellent version at Molyvos. The ground lamb was distinctive, but not fatty or greasy. The eggplant and cinnamon were in perfect balance. The bechamel topping was rich and creamy. This, was as close to the Platonic moussaka as we were likely to get.
We rounded out meal with the cheese tray. There was a roquefort, a gruyere, and a cirrus, a local cheese, much like a brie, produced by Mount Townsend Creamery. The cheeses were excellent, and we appreciated the variety. We also enjoyed the little figs, honeycomb and toasted almonds that they were served with.
We left with regret, perfectly satisfied.
Alder Wood Bistro is right in the heart of Sequim, and they serve lunch and dinner every day but Monday. We haven't been getting in to Sequim all that often, but now that we've tried Alder Wood, we'll be heading in to Sequim a whole lot more often.

REVIEWED: 24 August 2007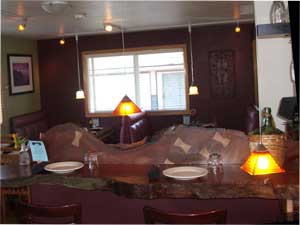 The dining room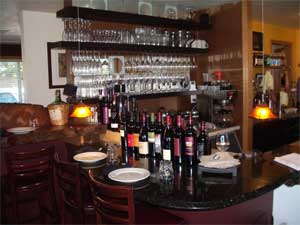 The bar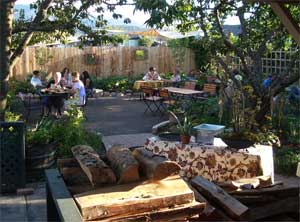 Al fresco dining