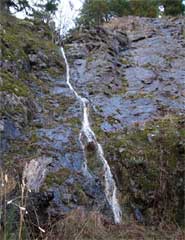 01/17/06 - Special Surprise Waterfall at Lake Crescent
It has been raining a fair bit lately, and Lake Crescent is as high as we've ever seen it. Long time residents tell us that the water hasn't been this high since 1953. Despite a bit of mud, the Spruce Railroad Trail is still passable, though you have to take a long step to get onto the little bridge at the Devil's Punchbowl.
About three miles out on the trail we had a pleasant surprise. A bit before the stretch of trail we call "The Point" there was a little waterfall coming down the rocky cliff. (Click on the image to the left for a better picture). The water actually flows across the trail in a thin sheet before making its way down to the lake proper. If you'd like to see this waterfall, head out on the Spruce Railroad Trail and keep your eyes on the cliffs. Also, hurry. When the rains stop, so will this seasonal waterfall.
Keywords: spruce railroad, winter, lake crescent, surprise waterfall, waterfall