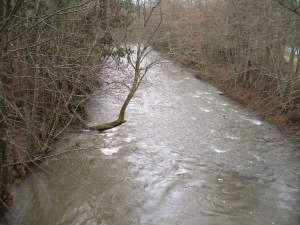 01/06/06 - Lots Of Water In Morse Creek
Winter is the season that we hope to build up our snowpack for the drier times of the year. There has been a fair bit of snow up in the Olympic Mountains, but the recent warmer weather has meant a fair bit of melting, and a fair bit of water coming down Morse Creek.
We always use the crooked branch as our benchmark. Usually, the whole branch is high and dry, a foot or two above the water. As you can see in the picture to the right, the water is up to the branch. That's a good flow, and a good preview of spring.
We just want our winter snowpack to build up first.
Keywords: morse creek, winter, spring