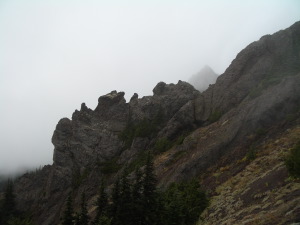 10/01/05 - Early Autumn on the Switchback Trail
We were up at Klahane Ridge the other day and the scenery wa spectacular, both on the climb up the Switchback Trail, and at Hurricane Ridge as well. There was no great panorama, but more of a dance of the seven veils, with the clouds revealing and concealing. It was tricky weather for a photographer with great shots appearing and disappearing as we climbed.
It is tempting to avoid Hurricane Ridge on cloudy days, but the clouds and fog offer a special kind of beauty. The mists accent the mountains and make everything more real and less abstract. The recent rain made for better hiking too. The trail is made of dirt again, rather than dust.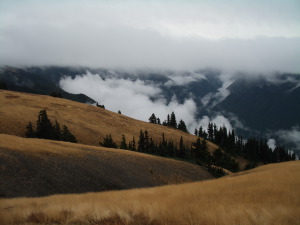 -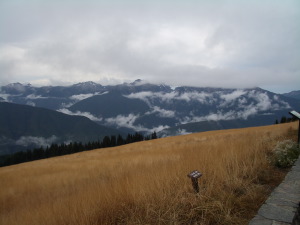 Not quite a panorama from Hurricane Ridge
Keywords: high country, klahane ridge, hurricane ridge