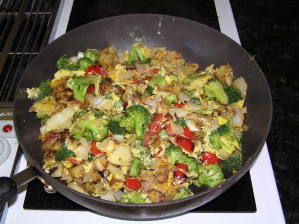 06/20/05 - Our Dry Creek Piperade

We really like this omelet, and we haven't made it for a real long time. It is a good hearty breakfast, but also makes a good lunch or dinner. It uses Yukon Gold potatoes, red peppers, sweet onions and the magic ingredient, at least around our house, broccoli. We try to use farm fresh ingredients, but this time of year, we just settle for organic. Later this summer we'll try it again with local produce, but we always use Dry Creek Farm organic eggs.

Click here for an illustrated how to guide.

Keywords: food, farms, dry creek farm