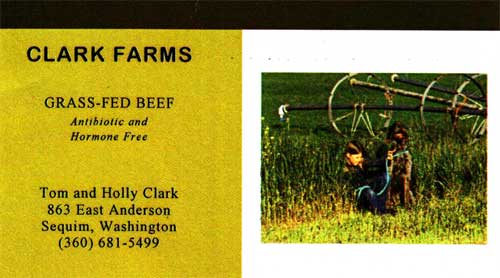 Clark Family Farm
863 East Anderson
Sequim, WA
360 681 5499

Clark Family Farm sells local, grass-fed beef. It is lean meat, but rich in flavor. Their t-bone steaks are wonderfully tender. We marinate them in lemon juice with salt, pepper, garlic and a bit of oregano, then we broil them. They sell just about everything in the cow, including the kidneys and tongue, so we are going to work our way through their repetoire.
They sell at the Port Angeles Farmers' Market, and at a number of small stores locally. This includes Good To Go and the Speedi-Mart on Old Olympic near the state police station on route 101. We're glad to see they have taken the initiative. We know there is a market for beef from the North Olympic Peninsula. The folks at The Swinery in Seattle sell it, but it was hard to find locally. Now, thanks to the Clarks, it is available locally.
Their market stand is truly a family affair with both the grown up Clarks and their children taking orders, fishing out cuts of beef and making change. Everything is neatly vacuum sealed and frozen, and everything we've tasted has been delicious.
PICTURES
Their farm stand at the Port Angeles Farmers' Market and a couple of t-bone steaks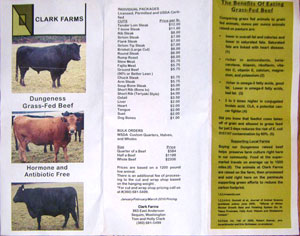 Their brochure - click to enlarge
(Please note that the prices may have changed.)
RECIPE
SEFRINA - A Moroccan Beef Stew

This is a wonderful, slow cooked beef stew with rich Moroccan flavors. It bakes for six hours, so it isn't a spur of the moment dish, but it is actually simple to make.

1 cup dried chick peas or 2 - 3 cans of canned chick peas
3 - 4 lbs beef chuck roast
6 medium sized potatoes or lots more if you are using a small potato like an Ozette or Austrian Crescent
6 eggs
4 cloves of garlic, chopped
salt
1/2 teaspoon black pepper
1/4 teaspoon ground ginger
1/4 teaspoon saffron or turmeric




The night before, soak a cup of dried chick peas in water overnight. (Skip this if you are using canned chick peas.)
Start boiling six cups of water in a tea kettle.
Preheat the oven to 375°F.
Take a big casserole with a lid and dump in the chick peas.
Add 3 or 4 pounds of beef cut into big chunks. Pot roast is great, but it is better if there is a bone or two.
Add six potatoes.
Gently tuck six raw eggs into the ingredients so far.
Chop up four cloves of garlic and sprinkle them on top.
Sprinkle with a few pinches of salt, 1/2 teaspoon black pepper, 1/4 teaspoon ground ginger, 1/4 teaspoon of saffron or turmeric.
When the water comes to a boil, pour it on.
Cover and put it in the oven for an hour.
Lower the heat to 250°F and let it cook for another five hours.