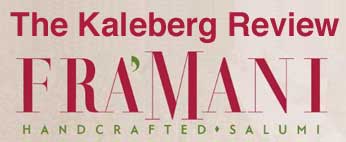 We have long been fans of Armandino Batali's Salumi in Seattle and their wonderful cured meats and salamis. When we heard about a new contender, Fra'Mani, based in Berkeley, California, but selling their goods online, we had to give them a try. We immediately placed an order and a few days later, in mid-September 2006, our package arrived stuffed with a gigantic soppresatta and a good number of other cured delicacies. Eagerly, we opened the package and were rather overwhelmed. We had purchased perhaps 20 pounds of charcuterie. We had nervous flashbacks to the accidental double order we had received from the Bacon of the Month Club some years back when we found ourselves provisioned with over 30 pounds of bacon.
Never the less, we Kalebergs were up to the challenge. We brought out the sharp knives, and our trusty meat slicer and set to work. Suddenly, we were underwhelmed. All the of the four different salamis we had purchased tasted more or less alike. There were tones of pork, garlic, salt and pepper, but they all seemed rather plain and undistinguished. "What was the big deal?", we wondered. These were clearly better than anything in the supermarket, but they weren't even a patch on Salumi. Then we remembered, cured salamis are meant to age. While Bloomberg may be cracking down on the salamis in store windows in New York, the entire art of charcuterie was developed to preserved meats in an age before refrigeration. The technique relied on salt, drying and antagonistic micro-organisms.
That's right. Our salamis were alive, just like cheese or wine. Brillat Savarin supposedly claimed that cheese was milk's leap to immortality, so we suppose that a good cured salami is meat's similar leap. Our tasting was premature, we were eating babies, and they needed time to ripen and mature.
While the curing technique was developed for the days before CFCs, or even those nasty ammonia hydrogen cooling units, we are belt and suspender types, so we popped our hoard into our refrigerator and waited. We could be patient. For now, it would be live and let live.
| | |
| --- | --- |
| Soppresatta | Salame nostrano |
| Salame gentile | Salametto |
Two Months Later ...
Yes, we actually waited two months before breaching the security zone of our refrigerator and extracting our Fra'mani goodies for further testing. The meats looked fine, with just a bit of salt crusting at the ends, and they smelled as good as ever. Again, we brought out our trusty slicer. This time, we were quite impressed. Our salamis had changed and grown and ripened. The flavors were fuller and richer. All sorts of interesting notes were present, and our four types of cured meat no longer tasted the same. The soppresatta was still our favorite, but it was mellower now. The salame nostrano was sweeter, and the narrow salametto, which had tasted a bit bland because of the small size of its slices, was now richly savory. We still would have to think for a minute before telling the nostrano from the gentile, though the nostrano may be a touch sweeter. Our patience had been rewarded.
It has been three months now, and the flavors have continued to grow richer as our salamis have ripened. The flavors are all in wonderful balance now which means that our Fra'mani hoard may not be long for this world. The soppresatta and the nostrano are still our favorites, but we were curious to see how they stacked up against Batali's wonders.
THE TASTING
So, on our last trip to Seattle, we bought several salamis from Salumi, and we prepared a taste test for ourselves and our friends. We tried a Tuscan fennel salami, a Salumi salami, and a hot soppresatta along with Fra'mani's soppresatta and their nostrano. Our slicing machine went into overdrive. Our serving table groaned under the mass of salami, and our guests descended like locusts on the plains.
The upshot was that Armandino Batali has nothing to worry about. It was a fair contest. All of the salamis were excellent, far surpassing any of their industrial counterparts, but the three Salumi salamis were the clear favorites, both for their more interesting use of spices, and for their slightly rougher texture.
Perhaps it was unfair to include Salumi's fennel salami and the hot soppresatta, but Salumi does have a broader range of flavors because of their fearless use of spicing. The Fra'mani meats were more subtle. As for the texture, that is more a matter of taste. Rougher textures are perceived as more rural, and since the tasting was in a rural area, Salumi had a home field advantage.
We have now reaffirmed our favorite, but we have nothing but good to say about Fra'mani's offerings. Given a choice, side by side, as at Delaurenti's in Pike's Place Market, we would choose Salumi, but there is a good chance we'd go for some Fra'mani as well.