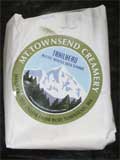 Trailhead - 18 June 2006 - Trailhead is a muenster like cheese, with a light rind, and firm, but not hard, texture. We liked this one right off. Not only was it delicious, but it was awfully familiar. Mount Townsend Trailhead tastes incredibly similar to Sharpham Rustic, a Devon cheese which is also made from raw Jersey cow milk. We've been buying our Sharpham Rustic from Murray's Cheese on Bleecker Street in New York City, but now we have a cheese that is just as good, and it is made right in our neck of the woods.
We have been to Devon, and we have to admit that Devon has the most amazing and wonderful dairy products ever squeezed out of a cow. Devon clotted cream is world famous, and with scones and preserves, it is the basis of those delightful cream teas. The grass is rich and lush, and Devon gets a lot of rain. In many ways, especially for dairy cattle, it is a lot like our part of the coastal Northwest.
We'll give this one a solid A. Maybe we'll even give it an A+, but we have to try it with our home made ham to be sure.
UPDATE - 05 August 2007 - Well, we've tried it with our home made ham. We've tried it with wine. We'll give this cheese a solid A+, and others seem to agree. You can find it at Delaurenti's at Pike's Place Market in Seattle and it was written up in the Seattle Times.