We hope you are joyful this season and full of love and thanksgiving!
The cows are cozy in the barn, now, and doing very well (lots of milk!) We had an extra good load of hay brought to us from eastern Washington and the cows love it. You may be noticing an increase of cream in the milk. You are not imagining things! Although there is more sweetness and color to the milk in the summer, there is more cream in the winter...just in time for holiday baking and whipped cream! Yes, you can use the cream from the milk for whipped cream...and butter, too! The cream will not get quite as airy and fluffy as store bought heavy cream (they put in additives) but it tastes just as good or better. If you accidentally whip the cream too much, now you have butter and buttermilk. You know what to do with the butter, but don't put the buttermilk to waste. You can use it for baking as well (scones, pancakes, smoothies are just a few ideas). This buttermilk that you get is not cultured or soured, it is sweet. If you want soured buttermilk, you can set it out and let it sour on its own, or add a little lemon juice (for a quicker result). There is so much to do with the milk and cream! Don't forget hot cocoa with whipped cream on top, home made eggnog, and cream in your coffee.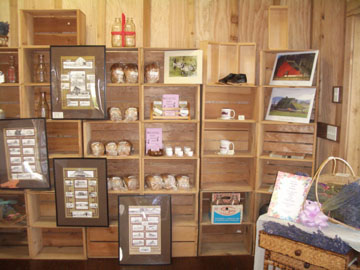 If you haven't had a chance to stop in at our store lately, come check out our new gift items! We are proud to say that everything in our store is local and we are in contact with and support people we know and trust! With that said, we encourage you to shop locally and support real people. In doing so, you boost our local economy, promote and support local artists,craftsmen and farmers, and reduce fuel usage (both your own and delivery trucks to big stores).
Don't forget to shop local and healthy for your holiday meal! We offer milk, cream, bread, CHEESE, and eggs (when available). Your family will appreciate a special meal with special ingredients!
May God bless you this season and always,
Sarah Brown