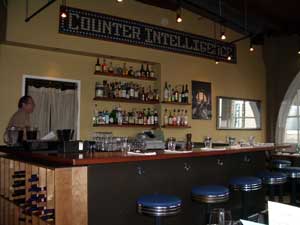 Some time ago Matt's was a little hole in the wall, a hidden gem in Pikes' Place Market, and not much to look at. This was before our time. They've remodeled, and are now twice their former size which is good, because at lunch, the joint is jumping.
Our favorite dish is probably the pork tenderloin sandwich on potato bread with chipotle mayonaisse, roasted peppers and Mexican cheese. It is a perfect symphony of flavors and textures. We are also fond of the fabada, which is basically a cassoulet, one of the crown dishes of France, either that, or the Platonic form of franks and beans. Matt's fabada is based on runner beans, which have a fresh flavor that many beans lack, and is heartily laced with their spicy home made chorizo sausage, a good serving of duck confit and is held together with caramelized onions. In combination, all the flavors and textures melt together to form a great whole.
We've also tried the turkey and cambozola cheese sandwich which is served with cranberry chutney, and their creditable fried oyster sandwich with spicy mayonaisse. Both of these were good, but we all have our favorites.
Most dishes are served with your choice of a soup or sandwich. Like it or loathe it, they make a great Manhattan style clam chowder, and their smoked pork shoulder and black bean soup is worth a visit all by itself. As for dessert, we've only tried their amazing, true to the South, bread pudding with a goopy caramel sauce designed to extract your fillings. It's served with the ice cream du jour, and it's wonderful
We have not yet tried Matt's for dinner, but if their dinner is anything like their lunch, you will be happy. All told, Matt's is a solid A, with a nice list of wines by the glass, professional service, and a lovely setting overlooking the market. It is also the only restaurant in town we know that serves Chinaco tequila, which is surely to its credit. It may not be the hole in the wall everyone remembers, but Matt's is still a real find at Pikes' Place.