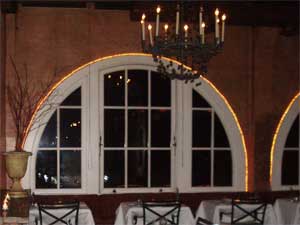 Our first thought when we entered Chez Shea was that it was wonderfully romantic, the perfect place for a special evening meal. It is hard to capture this in a photograph. Our impression was an amalgam of white tablecloths, charming chandeliers, arched windows, shining silver service, the dark night and the illuminated flying pigs on the roof of Pikes' Place Market across the way. What more could a romantic couple ask?
In our case, the pigs were more than seasonally appropriate. We greatly enjoyed the braised Kurobota pork belly with persimmons and shredded fennel. Chez Shea is an elegant place, and the food thoughtful and delicious. We have had sweetbreads many times before, but never with a spicy puttanesca sauce, a play on pasta puttanesca and a real triumph. The black cod, one of our favorite fish, was served with tiny black lentils, frisee and carrots. The dark, earthiness of the black lentils balanced the delicate flavors of the cod, an oily fish, here perfectly prepared. Every dish showed some thought, and every dish pleased the palate. The fresh amberjack carpaccio was highlighted by tart grape tomatoes and an spicy slices of jalapeno pepper. All told, wonderful food.
If you want to ask the woman you love for her hand in marriage, this is the place to do it.
As befits an elegant restaurant, the service was impeccable, the wine list extensive, and the ambience, well, romantic. This is not the place to go for a quick bite or to be part of the hopping restaurant scene. Chez Shea is a quiet place, for lovers, of all kinds.