Bella Italia
UPDATE May 22, 2001 - Bella is back. We were just at the shakedown last night and have to say the food is better than ever AND the new restaurant, across First Street from its old location is beautiful, warm and stylish. So, oldtimers, come back, and newcomers, give it a try.
This restaurant is a treasure. It has just moved across the street, a few doors down from Port Book and News. It now has an inviting store front, so you don't have to enter through the basement of a health food store. Bella Italia still serves an imaginative, eclectic, cuisine that is based on the best of local fish and produce, and the best around here is pretty damn good.
Always try the specials; the chef puts his whole heart into them. He usually offers one or two fish entrees, perhaps one beef or lamb dish. The fish is so fresh it tastes as if it had dived from the ocean onto the plate. Sauces sparkle with herbs; the meats are often partnered with a fruity vinegar reduction. Entrees almost always include some kind of grain dish such as rice or barley risotto, and organically grown greens. This is kale, collards, and escarole that have died and gone to heaven.
Bella's food is delicious, but its wine list is extraordinary. Ask for the reserved list and don't hesitate to talk to the staff about the wine. The list is particularly strong in Washington and Oregon reds. Everybody knows about Oregon's lovely pinot noirs, but Washington has delectable cabernet francs, soft merlots, and cabernet sauvignons that taste like ripe blackberries. Many of Bella Italia's selection are hard to find collectibles.
The place is informal. kid friendly, and open from 4:00pm for dinner. You're missing a real regional star if you leave the Olympic Peninsula without eating here.
P.S. Guidebooks to the Olympic Peninsula write well of Bella Italia but underrate it. The restaurant has had a new chef and has blossomed from a good place to a really good place over the last year. The guidebooks, always a little out-of-date, do not yet reflect the change.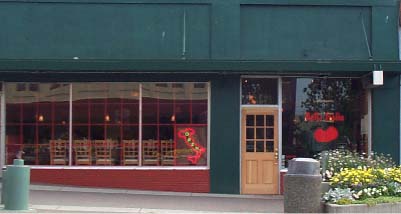 Here it is, back on First Street in downtown Port Angeles - the new Bella Italia.
---