Shore Road Nursery - CLOSED
616 Shore Road between Sequim and Port Angeles
360 457 1536

UPDATE - 24 February 2008 - Shore Road Nursery is closed. We really loved the place, but Dave Allen has moved on. For years, he was one of the top rated conservationists in the county, specializing in regional gardening and restoration. He is now working for Olympic National Park, doing the same kind of work, but now aimed at improving and preserving one of the great public resouces in the region.
---
Shore Road Nursery is closed, but we'll leave this site here as a memorial.
The Shore Road Nursery specializes in native northwest regional plants. Come here for oregon grape, salal, wild ferns, native grasses, Nootka rose bushes and other plants you are more likely to find on the trail than in a store. Try to spend some time chatting with Dave Allen, the owner. The man is a mine of information about Pacific Northwest flora. He is also the man to talk to if you are interested in doing native plant landscaping. The nursery is on Bay Shore Road east of Port Angeles on route 101. Call for hours and directions.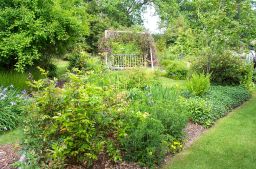 ---